What kinds of breaches hurt e-commerce?
Perhaps one of the most damaging problems a business can encounter is to have customer data revealed to criminals. For example,
D In 1997, Drew Dean reported on a hacker incident in which someone sent 2,300 customers of the ESPN Sportzone and NBA.com Web sites copies of the last eight digits of the victims' credit card numbers. The accompanying message said, "You are the victim of a careless abuse of privacy and security. This is one of the worst implementations of security we've seen." It seems
that the hackers were not, however, malicious: no one reported fraudulent use of their cards. Dean suggested that the fault was likely to lie in bad CGI programming16.
D A thief who ran a packet sniffer to capture 100,000 credit card numbers from a dozen on-line commerces was arrested in May 1997 when he tried to sell it to the FBI for $260,00017.
D In 1998, an employee of a Japanese bank offered to sell detailed customer records to a mailing- list company. Happily, that firm immediately contacted the bank and the scam was stopped18.
D The Canadian consumer-tracking service Air Miles inadvertently left 50,000 records of applicants for its loyalty program publicly accessible on their Web site for an undetermined length of time. The Web site was offline as of 21 January 1999 until the problem was fixed19.
D In February 1999, an error in the configuration or programming of the F. A. O. Schwarz Web site resulted paradoxically in weakening the security of transactions deliberately completed by FAX instead of through SSL. Customers who declined to send their credit-card numbers via SSL ended up having their personal details — address and so forth — stored in a Web page that could be accessed by anyone entering a URL with an appropriate (even if randomly chosen) numerical component20.
D World famous cryptographer and security expert Prof. Ross Anderson of Cambridge University analyzed requirements on the AMAZON.COM online bookstore for credit card number, password, and personal details such as phone number. He identified several risks: (1) merchant retention of credit card numbers poses a far higher risk of capture than of capture in transit; (2) adding a password increases the likelihood of compromise because so many naïve users choose bad passwords and then write them down; (3) even the British site for Amazon contravenes European rules on protecting consumer privacy; (3) such practices make it easier for banks to reject their clients' claims of fraudulent use of their credit-card numbers21.
D In April 1999, Joe Harris, a computer technician at the Seattle-area "Blarg! Online" ISP, discovered that improperly-installed shopping-cart software used widely on the Net to simplify shopping can allow anyone to see confidential data such as credit-card numbers. Security analysts pointed out that the plain ASCII file where such data are stored should not be on the Web server at all, or if it is, the file should be encrypted. Initial evaluation suggested that the weakness affects at least several hundred and possibly many thousands of e-commerce sites where the software installations were improperly done22.
D In another recent case, CD Universe customers were shocked when a Russian hacker calling himself Maxus was able to access the CD distribution company's customer credit-card database in December 1999. The criminal then tried to extort $100,000 (and later $300,000) from the firm in exchange for not publishing the numbers. When CD Universe refused to pay him, the

16 RISKS FORUM DIGEST 19(24): < http://catless.ncl.ac.uk/Risks/19.24.html#subj5 >
17 New York Times May 23 ,1997
18 RISKS FORUM DIGEST 19(53): < http://catless.ncl.ac.uk/Risks/19.53.html#subj3 >
19 RISKS FORUM DIGEST 20(18): < http://catless.ncl.ac.uk/Risks/20.18.html#subj13 >
20 Glave, J. (1999). FAO Schwarz Springs a Leak. Wired press service Feb 3, 1999 16:30 PST
21 RISKS FORUM DIGEST 20(20): < http://catless.ncl.ac.uk/Risks/20.20.html#subj10 >
22 Wilson, J. (1999). Shopping Software May Be Flawed. Associated Press newswire 06:48 PM ET 04/22/99
scoundrel posted the stolen numbers on a Web site and allowed anyone to have one credit card number at a time. Criminals were able to make fraudulent charges on the cards.23
A similar breach of confidentiality that can be disastrous is to have trade secrets revealed to competitors. For example,
D In a settlement of one of the few documented cases of industrial espionage involving intercepted e-mail, the Alibris company paid a $250K fine for the firm it acquired in 1998. That company, Interloc, admitted intercepting and copying 4,000 e-mail messages sent to Amazon.com through its own ISP, Valinet. Prosecutors said that the e-mail was intercepted to gain a competitive advantage against Amazon in Interloc's own book business. The managers of Interloc steadfastly denied any wrongful intention but failed to explain why they copied the e-mail24.
D In the first case of a lawsuit involving industrial espionage by lawyers, Moore Publishing of Wilmington, DE sued Steptoe & Johnson of Washington, DC for allegedly breaking into its computer systems more than 750 times while simultaneously using a stolen user-ID and password to penetrate the victim's network. In addition, the suit alleges a systematic cyberwar involving misinformation posted on newsgroups through a HotMail account that was eventually traced to the defendants. The suit demanded damages of at least $10M25.
There have been some spectacular software quality-assurance failures in recent years; in one particularly humiliating case, a programming error generated the largest single accounting error in the history of the space time continuum (as far as we know, that is).
As for breaches of integrity, Web vandalism is so common it is no longer news. Web defacement has become a sport, with hordes of children called script-kiddies blindly using hacking tools that exploit known and usually very old vulnerabilities26. If you can stomach pornography, obscenity and really bizarre spelling, you can even look at the images of the hacked pages by clicking on the links at that location. For e-businesses, the scary aspect of these cases is that in many of them, technical personnel had no idea they had been hacked until someone phoned them or sent them e-mail to ask about the peculiar pictures and words on their Web pages.
Infections by viruses and worms also cause breaches of integrity; for example, back in 1996, there was a widely-distributed MS-Word macro virus that inserted the word "Wazzu" at random into infected documents. Having a damaged document on one's Web site would be pretty embarrassing. Well, a careful search (careful to exclude phrases such as "up the wazoo" and references to Washington State University – known as Wazzu) by IBM researchers revealed many sites that had "Wazzu" in their documents27. Even today, one can find documents with ectopic "wazzu" in them; e.g., as I was writing this paper I found a music review with the sentence, "Confined to the piano seat wazzu for the duration this was unlike any other performance by Nick Cave in Melbourne. . . ."
If anyone with an e-business needs yet more to worry about, then worry about viruses that can alter numbers at random — like, for example, prices. To get a sense of the kind of damage such alterations can cause consider the case of the unusually cheap Hitachi monitors. For unknown reasons, in February 1999 the BUY.COM online store Web site listed a $588 Hitachi monitor at only
$164.50 -- and staff failed to notice the error until two days later, by which time there were 1,600

23 Smetannikov, M. & L. Trager (2000). Credit-Card Fraud Hits Web. Inter@ctive Week (Jan 17, 2000) 7(i2):8
24 Internet e-mail intercepted. United Press International UPn 11-23-99 2:25 PM
25 Computer Hacking Suit Escalates Against Top U.S. Law Firm. WASHINGTON, Nov. 11 /PRNewswire/
26 For a long list of recently-hacked Web pages, see the AntiOnline archives < http://www.antionline.com/archives/pages/ >.
27 See <http://www.av.ibm.com/1-3/Features/Cover/> for the results of this research by Morton Swimmer.
orders for this incredible bargain. The potential cost in lost revenue was $677,600 and the real cost depended on the markup. Attempting to refuse to sell the monitors could lose the company enormous customer good will, not to speak of resulting in an investigation for fraud and possible civil lawsuits for breach of contract. Analysts speculated on the cause of the error. One intriguing possibility: the BUY.COM online store has a policy of underbidding any price on the Net and may possibly use knowbots (automated agents) to scour the Web looking for prices of products it sells. If a competitor were accidentally or deliberately to post a bad (excessively low) price, the unsupervised knowbot could very well poison the Web site database. The same technique could be used in an information warfare attack to ruin a competitor.
It is trivially easy to alter the originating address that appears on e-mail messages; there have already been many cases in which lies have been distributed on the Internet and attributed to the wrong source. A business can be targeted by a flood of false advertising, abusive messages, or even announcements about nonexistent discounts — all apparently coming from the victim and causing enormous problems with customer relations. All such breaches of authenticity would cause serious damage to the reputation of the victim. In 1997, a Texas student named Craig Nowak used "flowers.com" as his return address in a flood of junk e-mail. His victim, Flowers.Com, received thousands of angry and even abusive e-mail messages and many cancellations of accounts from customers and prospects who thought the flower company had abused their e-mail addresses.
Luckily, in that case, it was possible to track the miscreant down and he was fined $18,910 plus court costs for his fraud; in other cases it has been difficult or impossible to track down the originator of this kind of cyber-slander28. Even today, countless firms are falling prey to charlatans and crooks who claim that unsolicited bulk e-mail is a good method of marketing — and are suffering monetary losses and loss of reputation as a consequence29.
Consumers expect appropriate response from e businesses; there have been many examples of disastrous cases of slow response due to inadequate resources, downtime due to errors and downtime due to denial-of-service attacks. Firms consistently fail to plan for peak loads; they omit effective backup systems for electrical power and telecommunications systems; they lack real-time recovery for disk failures and server outages. And every time a customer leaves a non-responding Web site in disgust, there's a good chance they will turn to a competitor the next time they start their online shopping.
On a fundamental level, e-business naturally depends on the utility or usefulness of its user interface. For example, people become irritable when faced with clumsy, inconsistent and non-intuitive Web designs. A customer who cannot reverse a mistake or get help quickly will soon be an ex-customer.
Losing control over information is also a problem. Some companies have been subjected to extortion, in which criminals have threatened to reveal confidential information war to destroy critical systems unless they are paid30. Visa International, for example, admitted in January 2000 that criminal hackers had broken into several servers in its global network in July 1999 and stolen information (although, according to them, not credit-card numbers or consumer data). In December 1999, the criminals contacted Visa demanding a ransom in return for the data. Although it is very difficult to have confirmed evidence of such cases, there have been widespread reports of this kind
28 RISKS FORUM DIGEST 19(19):9 < http://catless.ncl.ac.uk/Risks/19.19.html#subj9 >
29 RISKS FORUM DIGEST 20(21) < http://catless.ncl.ac.uk/Risks/20.21.html >and Wired online < http://www.wired.com/news/news/business/story/17803.html >
30 Harrison, A. (2000). Visa Reveals July Break-ins; Suggested: Credit card company says crackers tried to extort money. Computerworld
(Jan 31, 2000):6
of extortion, especially in the financial world where companies are reluctant to admit that their systems have been penetrated.31
The problem of downstream liability
Another kind of loss of control occurs when a system is used to launch damaging attacks against other systems. For example, in mid-February 2000, Internet users suffered the consequences of distributed denial-of-service (DDoS) attacks on several major e-commerce sites32. These attacks involved two types of victims: the initial and the final.
The final victims were the sites receiving a flood of fraudulent and useless packets that crashed servers and saturated inbound bandwidth keeping customers away.
Amazon, Buy.Com, CNN and eBay users experienced serious delays in getting service from these Web sites. Investors in these companies' shares may have lost over a billion dollars in paper value of their stocks. The following graphs tell their own story: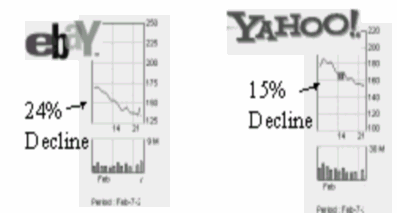 However, the floods of packets in such a DDoS originate from hundreds of other victims — call them the initial victims — whose integrity is compromised by criminal hackers. The DDoS attacks involve tools such as trin00, Tribe Flood Network (TFN), Stacheldraht and TFN2K, widely available on the Internet due to the irresponsibility and stupidity of programmers with less social conscience than the average bacterium. In each case, the criminal hacker takes as long as required to break into many ill-secured computer systems to install programs known as soldiers, slaves or zombies. These slave programs respond to instructions sent in encrypted form from a master program directly under the control of a criminal hacker. The slaves serve as amplifiers for the denial- of-service attacks, allowing criminal hackers to put together an unauthorized parallel-processing system to abuse their victims. There are even scanners available to help locate weak systems

31 But see Komisar, L. (1999). Russian Cons and New York Banks. Village Voice (December 1 - 7, 1999) < http://www.globalpolicy.org/nations/russ993.htm > for an exposé on the lax state of controls in today's international banking industry.
32 See for example:
Yasin, R (1999). Rise In Intrusions Sparks Concern -- CERT Responds To Increase In Distributed Denial Of Service Attacks. InternetWeek (Dec 6, 1999):18

Fonseca, B. (1999). Zombies attack networks: Denial-of-service attack uses multiple PCs to hit system. InfoWorld (Dec 13, 1999) 21(i50):14

Farrow, R. (2000). Distributed Denial of Service Attacks. Network (Jan 1, 2000)

Featherly, K. (2000). Denial Of Service Attacks Continue - Reports 02/09/00. Newsbytes (Feb 9, 2000)
automatically; it is possible to infect yet another new host once every few minutes or faster, depending on the bandwidth available to the criminal33.
Tracing an attack back to one of the slaves is not much of a problem; however, going back to identify the person who installed the slave programs is very difficult. While law enforcement officials, including the FBI and the RCMP, searched for the perpetrators, the usual rag-tag band of lunatics crawled out of the woodwork to claim responsibility for this disruption of Internet commerce. Some of these fools even claimed a political agenda; supposedly spewing useless packets at their victim was a demonstration of their feelings about the commercialization of the Internet34. Eventually the RCMP in Canada arrested a nameless 15 year-old Montreal boy with the on-screen pseudonym "MafiaBoy" and charged him with breaching Canadian computer-crime laws.
But regardless of who is causing these DDoS attacks, there's an issue that has concerned security specialists and tort lawyers for many years: the question of whom to sue for damages when an attack is launched from a site that has itself been victimized by criminal hackers.
Now, I am not a lawyer, and this article is not legal advice; for legal advice, consult an attorney qualified to discuss tort law. That said, I have been following cyberspace law developments for a long time. At several professional meetings, I have heard attorneys specializing in the law of cyberspace discuss the concept of downstream liability in hacking incidents. Simply put, whom would you rather sue: some impecunious wretch sitting in a basement cackling over his latest DDoS attack or a real business with assets?
In a PC Week article, columnists Jim Kerstetter and John Madden wrote, "The recent distributed denial-of-service attacks on seven of the Web's busiest sites could not have happened without lax security on possibly thousands of other Web servers around the world. The owners of those sites could face legal trouble, since the attitude exists that you are responsible for the material on your site, regardless of its origin.35"
In my opinion, if DDoS attacks become a significant impediment to e-commerce, there are bound to be lawsuits against the owners and administrators of the first-line infected hosts harboring the DDoS slaves. I guess that the argument presented by tort lawyers will be that the slave-infected systems demonstrate contributory negligence by the people who ought to have a secured their systems so that the slaves could not have been implanted in the first place. Conceivably, a victim might sue all of the hundreds of infected sites in the hope of collecting settlements or awards from several of them.
What arguments would the plaintiffs' attorneys use in laying blame on the first rank victims? A strong case could be made using expert witnesses who would show that the vast majority of security breaches on sites linked to the Internet derive from out-of-date software and from inadequately configured defenses. The witnesses would testify that fixes for well-known vulnerabilities have been available for years at no cost from software manufacturers, security firms, and from volunteers freely

33 For more technical information about distributed denial-of-service attacks see Dave Dittrich's extensive resource page at < http://staff.washington.edu/dittrich/misc/ddos > and also the SANS Institute's excellent and practical guide, "Help Defeat Denial of Service Attacks: Step-by-Step" < http://www.sans.org/dosstep/index.htm >.
34 Klein, N. (2000). My Mafiaboy. The Nation (Mar 13, 2000) < http://www.thenation.com/issue/000313/0313klein.shtml >
35 Kerstetter, J. & John Madden (2000). Web security breakdown —'Zombie' Web servers were unwitting partners in denial-of-service spree.
PC Week (Feb 14, 2000):1
See also
Weil, N. (2000). Real denial-of-service hack victims weren't Web sites. Network World (Feb 14, 2000)
exchanging solutions. If subpoenaed, some of the network administrators from the slave-infested sites would testify that they knew that their sites were vulnerable, they knew where to get the fixes, but they just didn't have time to get the fixes installed. At that point, a clever attorney would ask, "Why not?"
Why not? Because there are well-known, respected firms where a single overworked network administrator is responsible for hundreds or even thousands of nodes with capital value estimated in the million-dollar range; where despite regular pleas from desperate people trying to get their work done, managers consistently refuse to allocate adequate resources to develop and implement sound security policies.
And so we are back to downstream liability. If it makes sense to sue the organizations whose computer systems harbor slave programs for contributory negligence rather than to pursue the hackers who infected them, doesn't it make sense to sue the managers who decided to leave their systems inadequately secured rather than pursue the network administrators who tried and failed to do their job in the face of managerial malfeasance?