CURRENT OFFICE SCHEDULE FOR KABAY PDF
Call me for an appointment or simply call to see if I'm available and we'll talk or meet.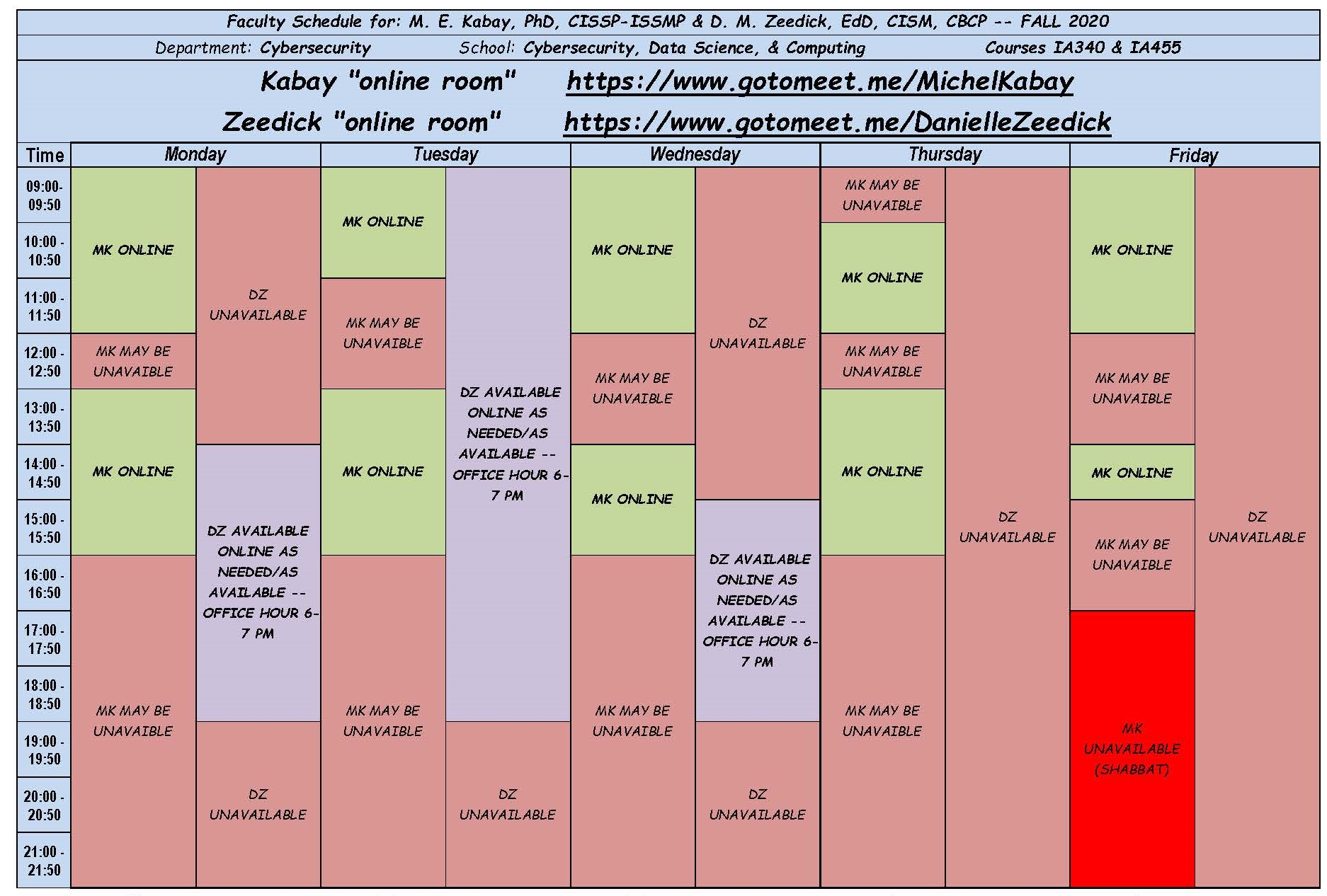 You can click on this link for a JPG image if you prefer.
ONLY telephone number: +1.802.479.7937
Call any time: you won't be disturbing me. After about 20:00, I just shut off the ringer and the calls go to voicemail.
Chat/Instant Message/Video:
SMS: 1.802.479.7937
FaceBook Messenger: Mich Kabay
Skype*: mekabay
*Students: Identify yourselves as NU students and provide a class ID (e.g., IA340) if you are enrolled in one of my classes when asking to link via Skype.*
* Note to spimmers: I never accept Skype links from strangers, including supposedly gorgeous Rumainian 22-year-old busty women who are actually 71-year-old overweight male half-drunk former prison inmates hoping to scam their victims into giving them money.
Social Media:
My Facebook public page has lots of news items with hashtags for course materials, left-wing politics, science topics, antiracism, feminism, cartoons, pictures of cute critters and puns. You don't have to "friend" me to see the content, but if students want to "friend" me, I accept and then unfollow their page to avoid infringing on their privacy.
E-mail addresses:
Preferred mode of communications for professional correspondence
For INTERNAL NORWICH UNIVERSITY-RELATED e-mail including correspondance with current students:**
mkabay "parse-this-curly-a-if-you-can-o-creeps" norwich "and-enter-the-little-round-black-thing-bit-bucket" edu
For all NORMAL, NON-UNIVERSITY e-mail:**
mekabay "curly-a-you-wretched-spammer-filth" gmail "parse-this-little-round-black-thing-you-scum-suckers" com
** Insults and circumlocutions inserted to reduce harvesting by spammers' stupid Web crawlers; alas, the smart crawlers already know how to ignore this kind of stuff. Fun, though!
Postal Mailing Address at Home:
M. E. Kabay
255 Flood Road
Barre, VT 05641-4060
Preferred express package deliveries:
FedEx and UPS. Feel free to send large amounts of money and valuable gifts.
The opinions expressed in any of the writings on this Web site represent the authorís opinions and do not necessarily represent the opinions or positions of his employers, associates, colleagues, students, relatives, friends, enemies, cats, dog or plants. Materials copyrighted by M. E. Kabay from this Website may be freely used for non-commercial teaching (i.e., specifically in any courses for academic credit or in free industry training at workshops or within organizations) but may not be re-posted on any Website or used in commercial training (where participants must pay fees for participation in the conference or workshop or where the instructor is paid) without express written permission. Any unauthorized sale of these copyrighted materials will be prosecuted to the full extent of the law.
Copyright © 2017 M. E. Kabay. All rights reserved. Updated 2018-02-10